Skill 8: Assess & Improve - What will we cover?
Assessing and Improving your own work (Marking Tool)
One of the reasons that we keep going back to revise theory is because it's easy to spot when you have the details right or wrong. If you got the formula or theory wrong, you can see you got it wrong, and you know how to fix it.
It's a lot tougher to identify whether it's your application of theory, or even tougher, your communication, that's the problem. When you look at the solution, yours NEVER looks like that. But how far different can yours be before it would be wrong? Does yours have to look exactly the same? What's necessary?
And, if it is an application and communication issue, how do you fix it? What do you need to do?
I'm going to give you some tools to help you assess your own solutions and identify whether you have application and communication issues. Then we've got some solutions for you for what you need to focus on in order to improve these things.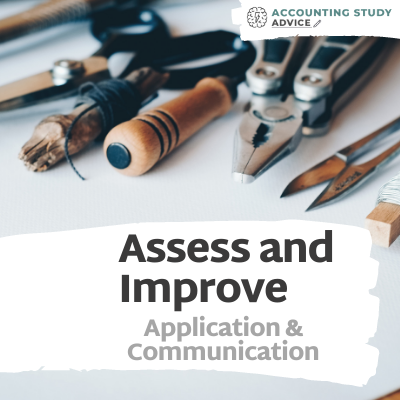 Complete and Continue